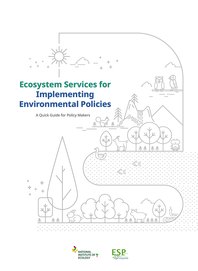 Ecosystem services for implementing environmental policies
저자

Namue Lee

출판사

국립생태원

출판일

2019-05-31

등록일

2022-09-27
보유 2, 대출 0, 예약 0, 누적대출 0, 누적예약 0
책소개
이 책은 '환경정책 ㅣ행을 위한 생태계서비스(2019)'의 영문판이다.
ISouth Korean government suggests the implementation of ecosystem services through National Biodiversity Strategies, Basic Plans to Conserve the Natural Environment, Consolidated National Plan for the Environment, Basic Plans for Sustainable Development and other fundamental plans for the application of ecosystem policies. To implement fundamental plans for the ecosystem service policies, we not only need the support from the central government but also education and awareness programs for public officials who plan and carry out the regional policies. This guide was developed to promote the public
officials' understanding of ecosystem services and to strengthen the capacity of policymakers.
This guide provides training materials focusing on environmental issues related to ecosystem services for policymakers. In 2018, we conducted pilot training in Gyeongsangnam-do, Gangneung-si, Siheung-si, and Ansan-si, along with 4-hour and two-day training sessions that were carried out with modified modules to better-fit local circumstances.
The three modules cover "Understanding Ecosystem Services, Valuating Ecosystem Services, and Utilizing Ecosystem Services." Included in these contents are key questions, case studies, exercises, and references to ensure comprehension.
The term "Ecosystem Services" remains unfamiliar to most people and even educators have difficulties understanding how ecosystem services can be practiced to capture their true value in our daily lives. However, this concept is gaining growing recognition of importance by government officials and other members of society because people started to see the real value of our nature around us. We recommend you to use this guide as online courses and/or for group training if there is a time constraint. Those who wish to capture main ideas quickly are invited to read the case studies and do the exercises first to approach to major issues of ecosystem services.
우리나라는 국가생물다양성
저자소개
저자 : Namue Lee
저자 : Hye-kyung Lee,
저자 : Jae-hyuck Lee
저자 : Hyuk-soo Kwon
목차
Background of This Quick Guide 7
01 Understanding of Ecosystem Services 9
1 Concept and Types of Ecosystem Services 10
2 Ecosystem Changes and Their Costs 18
3 Climate Change and Ecosystem Services 22
4 Ecosystem Services for Sustainable Development 24
Module 02 Valuation of Ecosystem Services 27
1 What is the Valuation of Ecosystem Services? 28
2 Ecosystem Services Mapping 34
Module 03 Application of Ecosystem Services Approaches 39
1 Why Do We Talk about Ecosystem Services? 40
2 Internalization of Environmental Costs : Payments for Ecosystem Services (PES) 43
Appendix 49
1 Glossary 50
2 References 53
한줄 서평